2019-2020 Sales Tax Revenue Budget: Transit
The budget information below is for fiscal year 2019-2020.
Projects
Project Description
Adopted
Budget
Transportation Planner


Hire staff to manage transit programs
$51,647
FY20 Frequent Transit Network (FTN) Routes (Funding Our Future Bus Routes)


Implementing service changes August 2020 for Frequent Transit Network (FTN) on key routes to increase transit service to a frequency of 15-minutes or better, Monday thru Saturday from 5 a.m. to midnight, and add new Sunday service
$5,307,845
Project Engineer
Hire Staff for transit projects. 10-months of funding
$109,398
Frequent Transit Network (FTN) Branding and Outreach
Fund branding and a public outreach process for the development of a high frequency bus network (FTN) that will establish new routes and service areas
$100,000
Transportation Engineer
Hire Staff for transit projects. 10-months of funding
$100,342
Civic Engagement Specialist
Hire Engagement Specialist specifically for Funding Our Future projects. 10-months of funding
$66,166
Transit Route Improvements
$1,100,000
On Demand Ride Services
$800,000
Total:
$7,794,388
Transit Service Dashboard
Providing revenue to support the City's new Transit Master Plan will help the City and its transit partners increase frequency of service to fill gaps in evening, mid-day and weekend service; provide service on new east-west routes; and improve the quality of transit stops.
Better transit service connects residents with jobs and affordable housing, improves air quality, creates more walkable communities and adds to the quality of life of all residents and visitors.
Transit Service Update
Salt Lake City Transportation is strengthening partnerships to meet the transit critical need. The City and Utah Transit Authority (UTA) are partnering to implement the first phase of the frequent transit network. This network will be complemented through the implementation of a home-to-transit program, as well as a work-to-transit program as a collaboration between the Transportation Division, other City departments and the private sector.
The City and UTA entered an interlocal agreement and launched the first three routes of the new frequent transit network in August 2019. The interlocal agreement includes higher frequency service and expanded span of service along key initial corridors (200 South, 900 South and 2100 South) and additional buses. These consisted of concrete pads to provide a more comfortable waiting experience, as well as wheelchair access to buses, and were in place for the new bus service that started in August 2019.
Transportation initiated outreach activities in early 2019, beginning with an Open Routes event in February 2019 (which previewed a section of one of the new bus lines that runs between North Temple and California Avenue in the Glendale and Poplar Grove neighborhoods with Mayor Biskupski and Council Member Johnston) and a "soft launch" awareness campaign for the new frequent routes that kicked off in August. Using Facebook, Instagram, digital display ads, Spotify, and Deseret News takeover, over 1.3 million impressions were served through November 2019 and over 444,000 unique impressions were recorded.
Transportation also created a "meeting in a box" for the FTN, which they will present to community groups throughout the first quarter of 2020, and that community members can borrow to conduct the same presentation to groups with whom they are involved if they'd like to spread the word about our new bus service. These interactions will help staff develop a highly visible brand for the network.
Take the Frequent Transit Network Survey to help us to continue to improve transit in the community and brand the Frequent Transit Network!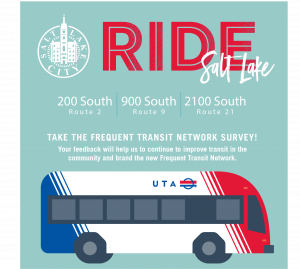 The Transportation Division is also developing on-demand service for residential neighborhoods, which will provide curb-to-curb connections to the FTN. The Transportation Division is working with the City's Economic Development Department, in partnership with UDOT's TravelWise Program, to implement a Work-to-Transit Program on the Industrial West Side to expand options and support businesses in managing travel demand to and from this economic driver of the City.
A fare and pass program analysis has been underway, including robust stakeholder engagement, to determine the best ways to take transit affordability to the next level. In partnership with UTA and UDOT, they have been awarded funding through the American Dream Ideas Challenge to conduct research for a potential future Mobility as a Service program, which will allow for multimodal trip planning and payment on a single platform and through a subscription service.
An additional Planning position was filled in January 2019 to address increases in workload and free up capacity to address transit related zoning issues.
The Civic Engagement Specialist position was filled in October 2019 to coordinate engagement for Funding Our Future projects moving forward.
Updated January 2020.