2019-2020 Sales Tax Revenue Budget: Street Maintenance
The table below shows the budget for the 2019-2020 fiscal year.
Projects
Project Description
Adopted
Budget
19 Streets Crew Employees
Additional employees to staff second streets team
$1,667,890
Additional Equipment
Two trucks and other streets equipment
$1,108,026
Total:
$5,350,767

Street Conditions Dashboard
New sales tax revenue assigned to the street maintenance budget will be used to increase the number of lane miles maintained each year (filling potholes, resurfacing roads, etc.) — extending the life of the City's best roads. These improvements benefit the entire community by improving air quality, reducing street reconstruction needs, and contributing to individual cost savings by decreasing fuel consumption and the frequency of tire repair and car maintenance.
New bond revenue funding will allow the City to begin reconstructing its most deteriorating streets and, when paired with new sales tax revenue for streets maintenance, enable the City to prolong the life of its entire street network.
Streets Conditions Update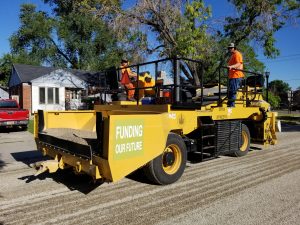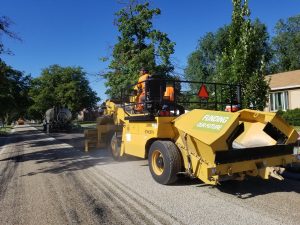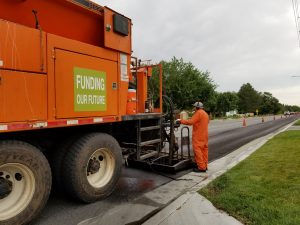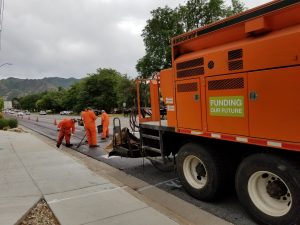 As of August 1st, Streets has chip sealed 46 lane miles and slurry sealed 50 lane miles during the 2019 construction season. The chip seal operations will be coming to an end in mid-August, but the slurry seal crew will continue work until early September.
The Streets Division is fully equipped for a full summer schedule of road maintenance and reconstruction projects, including resurfacing and pothole repairs. With increased funding allocated from new sales tax revenue, the Streets Division has hired and assembled a new crew of asphalt professionals dedicated to improving Salt Lake City's roads.
Updated August 2019.
---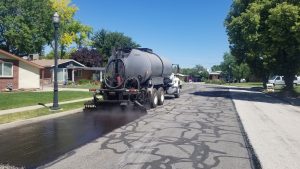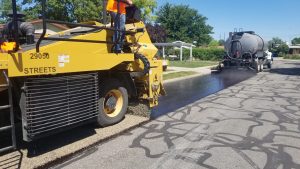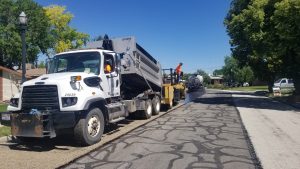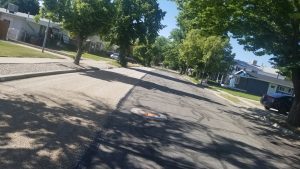 This is the type of project Funding Our Future is making happen. As you can see, the road was prepped with crack seal. The Streets district crews, which are not directly funded by Funding Our Future, do the prep work before the two surface treatment crews come through with chip seal adding about 7 years of life to the road. Funding Our Future money has changed the way Streets allocates a great deal of its annual general fund budget with more of it directed to supporting the Funding Our Future funded crew.
Updated June 2019.
---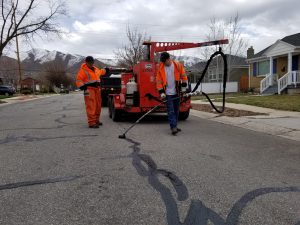 The new crew is comprised of nineteen highly skilled individuals, many of whom possess previous experience at neighboring municipal organizations. Hired in December 2018, they were quickly immersed in Streets Division operations, including snow removal and crack sealing (pictured right) in preparation for road surface treatments this summer. These surface treatments will protect roads from any further deterioration and help extend their lifetime, an important component of a comprehensive maintenance strategy for the City's roadway network.
Streets has also acquired the new equipment and materials necessary to improve and maintain more lane miles annually than ever before. New dump trucks, pickup trucks, a sign truck for traffic control, asphalt rollers, 3 pothole patching machines, and an additional paver were purchased and added to Streets' existing equipment inventory.
With the new surface treatment crew assembled and new equipment in place, Streets is prepared to double the lane miles of road surface treatments each year – from around 70 to 155 lane miles. Maintaining more lane miles on an annual basis will extend the life of our roads and improve the quality of life for residents with better air quality and individual cost savings from decreased fuel consumption and less tire and vehicle maintenance.
Updated April 2019.